Expert Skylight Installation & Repair
Increase Natural Light & Improve Energy Efficiency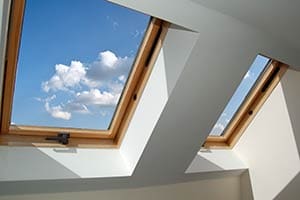 Science has proven that natural light helps improve mood, regulate the sleep cycle and reduce energy consumption. A little Vitamin D from the sun can go a long way to ensuring that we are healthier and happier. If you have an interior space that is perpetually dark – like your bathroom or a bedroom – you may want to consider adding a skylight.
Skylights can brighten any room and allow you to enjoy views of the day or night sky and stars from the comfort of your home. While skylights are a popular addition, they do require careful planning and installation by a home improvement services expert. Pressure Point Roofing, Inc., is a general contractor with nearly 30 years of experience performing a variety of home renovation projects.
What to Expect
Skylight installation is similar to installing a new window, except it will be installed on your roof. This involves cutting a hole in your roof, installing the skylight and taking measures to ensure that it doesn't leak.
Skylights can be installed on nearly any type of roofing. Before we begin, we'll inspect your roof and have a conversation with you to determine your home's daylighting needs. We'll then provide recommendations on where the skylight should be installed. After the installation, we'll complete the interior portion, which includes adding drywall and paint.
If your skylight is leaking, we can diagnose the issue and repair it before it negatively affects the rest of your home.
Call a Top-Rated Home Improvement Services Company Today!
Pressure Point Roofing, Inc., wants to be your go-to resource for all your roofing, gutter, siding and construction needs. No matter the size of the project, we can handle it! Let's talk about your upcoming project. Schedule an appointment today by calling us at (541) 772-1945 or by filling out our online form.