Expert Roof Repair & Maintenance Services
Don't Let a Minor Leak Turn Into a Major Problem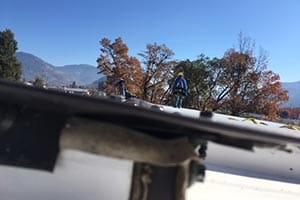 Your roof takes the brunt of all types of weather. As storms pass, wind can cause shingles to lift up or even blow off. Flying debris can puncture your roofing system, causing water intrusion into sensitive areas of your roof as well as your home interior.
When this happens, you need to immediately call a local roofing company for roof repair and maintenance services. If left unchecked, what would have been a minor inconvenience could eventually cause your roofing system to fail prematurely, resulting in more expensive and intrusive roof replacement.
If you suspect that your roof might be damaged, or you simply want to have it inspected as part of preventive maintenance, call Pressure Point Roofing, Inc.. We have nearly 30 years of experience helping commercial and residential customers repair and maintain their roofing systems.
We Can Take Care of Any Size Repair
Many property owners have trouble getting a roofing contractor to return their calls if it's a minor problem like a small roof leak or some blown-off shingles. Pressure Point Roofing, Inc. does things differently. We have a dedicated repair team that will come to your business or home to complete repairs of all sizes. We replace missing wood shingles or shakes, asphalt shingles and tiles from wind or fallen tree damage, and more. Our goal is to bring your property back to its pre-damage condition or to extend your roof's life as long as possible.
Our team can also assist you with other improvements, including gutters, windows, siding and more. When you hire us, you'll get peace of mind – from the top down.
We Offer Roof Maintenance Programs
If you would like a professional team to maintain your roof on a regular basis, Pressure Point Roofing offers annual and semi-annual roof maintenance programs. Get peace of mind that your roof is in top condition year-round.
An On-Call Roofing Company for All Your Roofing Needs
Pressure Point Roofing, Inc., is a top-rated roofing company in Southern Oregon due to our commitment to customer service and providing the highest quality products and workmanship. Let's talk about your repair and maintenance needs. Call us today at (541) 772-1945, or you can fill out our online form. We also take emergency calls 24 hours a day.