Top-Rated Roofer in the Rogue Valley
Get 'Peace of Mind From the Top Down'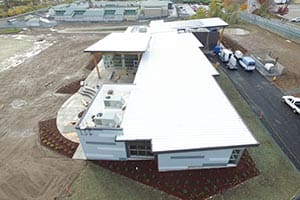 Pressure Point Roofing, Inc., was founded in 1989. In 2008, Matt Stone purchased the company and has been running it since. Pressure Point Roofing started small, primarily doing shake roof restorations. As time went on, we expanded our services to become a full-service roofing company offering residential and commercial roofing systems.
At Pressure Point Roofing, Inc., we don't want you to walk away dissatisfied with the final result. That's why we only install quality, time-tested and performance-proven materials. We only employ courteous and professional personnel who are committed to quality. This means that you'll get nothing but the best from us – whether you're in our office or meeting our team in the field.
From what started as a simple roofing company, we have expanded our services to encompass a wide variety of services, including siding, windows, insulation, gutters, and light construction. When you work with us, you can have "Peace of Mind From the Top Down"!
What Makes Us Stand Out From the Rest
Pressure Point Roofing, Inc. has partnered with some of the most well-known manufacturers in the industry, including Duro-Last® and Owens Corning®. We are a an Owens Corning Platinum Preferred Contractor, which means that we rank in the top three percent of roofers in the country.
Few roofing companies last over five years. Pressure Point Roofing, Inc. has been in existence for over 25 years. This is a testament to both our commitment to our customers and our work. We have earned a five-star rating from countless clients, and we are happy to provide you with references.
Schedule an Appointment With Your Local Roofer Today!
Don't keep putting off that home improvement project. Whether you need new siding or a roof replacement, let's talk about your needs today. We proudly service businesses and homeowners throughout southern Oregon. Contact us at (541) 772-1945, or you can fill out our online form.