Experienced Commercial Roofing Contractor
Don't Let Your Business Suffer Due to a Poorly Functioning Roofing System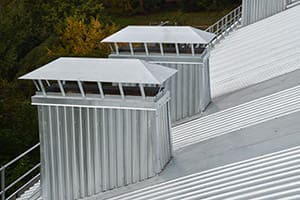 For nearly 30 years, Pressure Point Roofing, Inc., has been your local commercial roofing contractor. With our expert craftsmen on your side, your roof can be repaired or replaced in a timely and efficient manner.
Roof maintenance is not often at the top of anyone's mind. Most people live by the mantra that if it's not broke, don't worry about fixing it. Yet this mentality could lead to additional issues for you. What would have been a simple roof repair will eventually turn into a more expensive roof replacement. Proper maintenance can dramatically increase the overall lifespan of your roof.
If it is time to re-roof, Pressure Point Roofing, Inc. has certifications with some of the top-rated brands in the industry, including Owens Corning Platinum Preferred Contractor and Duro-Last®. As part of our standard services, our professionals will inspect and evaluate your roof to determine the best course of action for both the near and long term.
Commercial Roof Repair Experts
Roof repairs might seem like a simple job, but you still need an experienced roofing company to locate leaks and take care of the root issues. If you try to make repairs yourself, you might actually end up doing more damage to your roof.
When you work with Pressure Point Roofing, Inc., you can rest assured that you are working with an experienced crew that can take care of any repair – no matter how big or small. We'll get the job done in a timely manner and keep you informed throughout the entire process.
Schedule an Inspection Now
Whether you need basic maintenance or a full roof replacement, Pressure Point Roofing, Inc., has nearly 30 years of experience helping customers just like you protect their commercial properties from leaks and other roofing-related issues. Let us inspect your roof today so you can avoid possible disruptions to your business. Schedule an appointment now by calling us today at Pressure Point Roofing, Inc. or by filling out our online form.