House Siding Installation Experts
Improve the Look & Efficiency of Your Home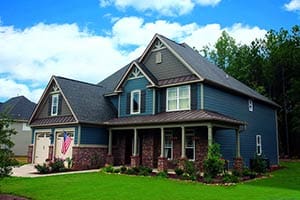 Is your siding damaged due to normal wear and tear, weather, insects or even fire? Then it's time to call a company that can help you update your house siding. Why? Siding that has begun to deteriorate negatively affects your home's curb appeal and resale value.
In addition, your house siding is part of your thermal enclosure. If it is allowing energy loss, this will increase your overall energy bills. If you suspect that your home needs a siding update, contact the siding installation professionals at Pressure Point Roofing, Inc.. We are proud to serve customers throughout the Rogue Valley.
Siding Designed for the Local Climate
While other home improvement companies are certainly bigger, that doesn't mean that they're better. In fact, many national companies don't understand the challenges of Oregon's weather patterns. When you hire a local company like Pressure Point Roofing, Inc., we'll recommend siding products designed to withstand everything that our local weather throws at us.
Plus, we are excited to say that we offer financing through our third-party lending partners, which means that you can get new house siding exactly when you need it. No need to run up credit cards or delay a project endlessly. Apply today to see if you qualify.
Get Started With a Free Estimate
Make your home more beautiful and efficient throughout every season of the year with new siding. Pressure Point Roofing, Inc., has been helping businesses and homeowners with a variety of improvement projects for more than 25 years. We have experience that you can count on whether you're investing in siding installation or a whole home remodel. Let's discuss your project during an initial consultation. Contact us today at (541) 772-1945, or you can fill out our online form.