Local General Contractor for New Porches & Decks
Make Your Outdoor Space a Haven for You & Your Family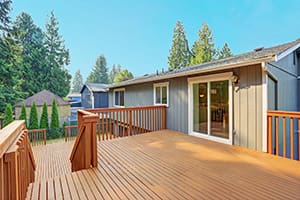 Have you ever surveyed either your entryway or your backyard and thought how nice it would be to add a deck or porch? You're not alone. Today's homeowners love the extended living space they get by investing in these improvements.
Your desire to improve your outdoor space doesn't have to remain a wish. The right general contractor can convert your vision into a reality that you can enjoy for years to come.
Pressure Point Roofing, Inc., has a team of talented craftsmen who will listen to what you're hoping to get out of your new deck or timber frame porch. As part of our home improvement services, we have a team ready to design and install your dream structure and provide you with peace of mind throughout the project.
Why Experience Matters
Any handyman can say that he can build a timber frame porch or deck, but that doesn't necessarily mean that he's done the project before – or done good work. In addition, many contractors have only been in business for a year or two. When you work with Pressure Point Roofing, Inc., you're working with a company that has been in operation for more than 25 years. That means there isn't a project or a problem that we haven't encountered and handled. It takes experience to do a job right.
Talk to Us About Our Array of Home Improvement Services
Create the outdoor living space that you have always wanted. Pressure Point Roofing, Inc., was built upon a foundation of old-fashioned values which we live by to this day. We'll treat you and your property like you deserve to be treated. Schedule a consultation with one of our team members by calling (541) 772-1945, or fill out our online form.