Quality Metal Roofs Installed by a Local, Experienced Roofer
We'll Find the Right Metal Roofing Solution for You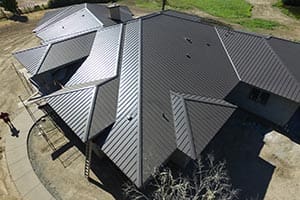 When it's time to get a new roof, many homeowners first think of new shingles. Yet there are many other products on the market that offer better durability and longevity than standard asphalt shingles.
One of those products is metal. Metal has long been established as a quality commercial roofing system, but is increasingly being used for residential applications. Why? Metal is extremely durable and can stand up to Mother Nature's worst much better than asphalt shingles. Metal requires virtually no maintenance, and typically requires far fewer repairs throughout its long lifespan. Finally, metal can last three to four times longer than an asphalt shingle roof, which means it actually costs less over the long term!
If you're interested in learning more about the benefits of metal roofing systems, then contact Pressure Point Roofing, Inc.. We are experienced metal roofers and can answer all your questions.
High-Quality Metal Roofing From Taylor Metal Products
At Pressure Point Roofing, Inc., we're proud to offer the highest quality roofing systems available on the market. We proudly install complete metal roofs from Taylor Metal Products. Taylor Metal has been creating quality sheet metal roofing since 1985. The company is locally-owned and -operated, and provides its customers with a wide variety of roofing systems, including both residential and commercial installations. No matter your roofing needs, Taylor Metal has the right solution for your home or business.
Contact Us to Talk About a New Metal Roofing System
Pressure Point Roofing, Inc. maintains a five-star rating because we know the importance of taking care of our customers. We're not the average roofer that does a project and moves on as quickly as possible to the next one. Our team will always strive to ensure that you are 100% satisfied with our finished work. Call us today at (541) 772-1945, or you can fill out our online form.